Is SEO for lawyers actually possible?
With every other law website in the world all vying for the "New York criminal law" and "LA car accident lawyer" top listings…is it worth it to go head to head with those big guys?
Or is it just a total waste of time – and you should just throw in the legal towel and not even bother?
If you are a lawyer looking to attract more clients and boost your business via online strategies, you no doubt have some serious challenges ahead.
Search engine optimization and how it applies to legal professionals is a rapidly changing and ever evolving art.  What worked yesterday may no longer work today, and what's working today may not work tomorrow.
Adding to that fact is that there are many variables to consider-all of them important considering the average "pay-per-click" dollar amount for lawyer related keyword phrases is now INSANELY expensive…
No your eyes are not fooling you.  That's $173 and $248 per click.
So for those of you who are new to the SEO/Google Adwords thing, if you Googled "car accident lawyers Los Angeles" –  if you clicked on that top ad….it would cost them a pretty penny:
Crazy stuff, huh?
So to remain profitable in this cut-throat niche, lawyer websites must convert website visitors into actual paying clients and fast – especially since a personal injury case may not be settled or resooed years after the first lead comes in.
So how is a does a lawyer do lawyer SEO?
Here's how to make that happen…
SEO for Lawyers Checklist
1. Create Authority and Trust
To succeed online a legal website must be viewed as an authority and as a website that conveys trust.
One of the most compelling problems we come across when dealing with new legal clients is trouble with conversion.  Many sites we see already have some established traffic, however the visitors are not being converted into paying clients.
So what's up here?  How come website visitors are not becoming legal clients?
Authority and trust is incredibly important when selling a service via the online medium – especially with regards to lawyers and attorneys.  A potential client will only hire an attorney whom they view as an expert authority figure in their chosen field.  On top of that potential clients will only choose an attorney whom they can 100% trust.
Here are a few proven strategies for gaining authority and trust online:
Hee is a great example of lawyer SEo crystallized in a trustworthy legal website – note how the entire site conveys trust and credibility:
Once you have taken the time to build your authority and trust, it is time to work your website design.  How a legal website is designed can have a seriously positive or seriously negative influence on conversion rates.
2. SEO Blogging
As we said written here before, blogging without a purpose is really a big waste of time. You blog, you have to have a "keyword focus" in order to both inform and educate but also satisfy the search engines.
Not to mention the fact that you should be blogging on these keyword phrases at least twice per week, if not more.
For many law firms be it personal injury law, criminal law, real estate law or elder law, some of the more popular keyword phrases typed in by potential clients are specific formula.
This formula is well known in the lawyer world as follows:
Town/state/region + practice area + attorney/lawyer/attorneys/lawyers
OR
Practice area + attorney/lawyer/attorneys/lawyers + Town/state/region
It's kind of keyword phrase search turns into something like this:
Poughkeepsie NY personal injury lawyer
Very standard "geocentric" style of writing for lawyers. But the bottom line is this: it works to get good focused traffic.
Having said all that, if you do all your posts just purely focused on this "lawyer SEO blogging formula", your blog will get very stale very fast.
Here's a video from Ryan to show you how its done: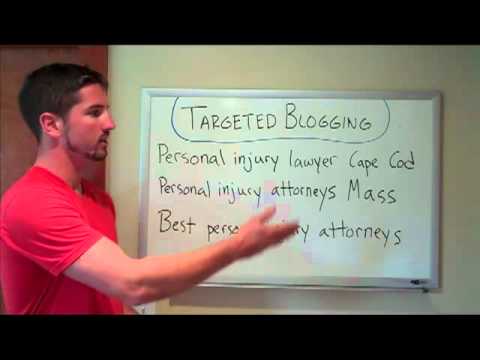 If for some odd reason, you can't see it, click here.
Which leads to our next step…
3. Answer Questions on Your Blog
In our experience, answering consumer questions on your blog is an excellent way to not only increase conversion but also to get targeted traffic in your area of expertise.
The four biggest questions to address (but not necessarily answer) that I see are the following:
How much does a criminal lawyer cost? how much does a personal injury lawyer cost? Ho wmuch does a New York elderlaw attorney cost?
There are many variations of this – both with or without the "ge-targeted" keywords in there, but obviously answering this for anyone is completely individual based on their needs.
What are the biggest problems with Elder Law attorneys? What are the problems with hiring a real estate lawyer?
Either you answer this or your competition will. If they find an honest open addressing the question from you, they are more likely to buy from you!
These titles can be as follows: elder law attorney versus estate attorney, personal injury lawyers versus regular lawyers, you versus your competition etc.
Someone who is shopping for an attorney is looking for all angles, so why no address it head on.
Like the versus posts, this one can get tricky. But all you need to do is take information from your main competitors website copy it directly and added into your post. You don't have to pass judgment or start slandering them, all you need to do is give some information.
A good post title might be:
Who are the best personal injury lawyers in (name your state or major city)?
Take info from the other guys site, don't disparage, just state the facts and be honest. Compare the two.
Why not write a review on your law firm? If people are serious about hiring you, why not have them read a post of you reviewing you instead of someone else reviewing you?
Me keyword phrase or product with suffix "review" or "reviews" some of the more popular search terms on the Internet, y competition, Angie's list or any other review site to the punch and write one on yourself
Don't worry about educating your audience too much – at the end of the day, if they read about how to do something legally, there is a very high likelihood that they will end up hiring you anyway.
One of the best examples of this is the geek squad YouTube page.
Check out this one video to install an amp of fire and some welfare – it received 502,000+ views and counting:
Why would geek squad teach people how to do something which is the bread-and-butter of their entire business model?
Because they know as soon as people start doing it… They'll bag out and call somebody who can actually get the job done.
And they know that if you been watching their videos, that person they will call is Geek Squad.
Same thing with you as a lawyer looking to do SEO. If you tell somebody what they should do after they are in a car accident, one of those pointers may be to contact a personal injury lawyer.
They seem self-serving to add that self-promotion, but as long as its the right thing to do – shouldn't you add it in?
Blogging is for SEO and increased traffic, for sure. The reason behind the scenes is conversion. The idea is to give visitors information that is compelling and makes them stay on your site for a long time, gather all the information they need and not go anywhere else to get more information in order to make a buying decision. The longer they stay on site, the better the chances they take action by calling your office or submitting their name for follow up.
4. Answer Questions on Legal Forums
Legal Q&A forums, can be an excellent way to demonstrate your expertise. Obviously, it's not the best fit for every lawyer and practice area. But if you have a local consumer-based practice, spending some time on Q&A law sites like Avvo and Justia can be quite effective.
Plus, these Q&A style sites do really well in search. Which means that they can provide you great visibility and even organic traffic from long tail searches.
In one example, a law firm we work with generated 84 visitors to their firm's site in one day just by answering around 30 questions on a legal forum.
For another firm, the legal forum avvo.com was one of their top 5 sources of referral traffic to their site.
Of course, you want to mindful of your state's ethics rules when it comes to posting to forum sites.
The balance between general information and specific advice can be tricky. I also recommend that you stick to answering questions that apply to the jurisdictions in which you are licensed and the practice areas in which you are an expert.
6. Go Local With Google Places
With billions of people typing in search queries into Google daily, Google Places (now known as Google Places for Business) is one of the best ways to market your local business on the Internet.
According to Google, over one billion consumers search for local businesses online each day. Of those queries that search for local business, over 92% result in an action like a purchase or a visit to a local business. More importantly, nearly half of these searches and actions begin with a click on a Google Places listing.
If you don't know what a Google Places for Business listing is – here's one right here:
But to get to the top of the heap in Google Places, you need citations – the more you do and more accurate you do them, the higher your listing will be.
When we do a Google Places listing, we submit to over 140 online directories and local search listings in addition to Google Places. This manual submission is performed to ensure the quickest and most accurate results in Google Places.
This labor intensive, but highly effective submission methodology is done prior to setting up the actual Google Places listing.
Make sure your SEO company does the same thing for you….then watch the traffic start flying in.
Why is manual submission so important?
On the surface, Google Places seems simple. The reality is that the ecosystem of Google Places is complex with many moving parts and challenging to maintain. Maintenance and addition requires hours of manual labor and analysis to understand your business and where it should be best found in the increasingly complex world of local search. This graphic shows why:
This graphic only shows only 30 directory listings with Google Places in the center of the local directory ecosystem….but there are so many more.
Each of the local directories shown in this graphic needs to be added by hand on initial setup…a painstaking process for sure, but worth it in the end. The benefit is that the more directories where you list the exact name address and phone number (NAP) of your location, the better the exposure on Google Places.
These additional directories should always include:
Geo Directories: Location based directories related to the city or town where your law group does business.
Vertical Directories: Business directory listings related to your legal services.
In using this submission methodology, it means strong Google Places rankings quickly (within 3-4 months, depending on circumstances), resulting in traffic, leads and customers in a shorter period of time.
7. Promote Your Content on Facebook and Other Social Media Sites
If you have great content, that's a good start. Even better though is letting the world know about it and there's no better place than on Facebook.
With over ONE BILLION active users…you can't miss out on this opportunity and one of the best ways to do this is up your "Likes" to your target audience, whoever that may be.
A good start is to identify who your ideal audience is. Is it truck drivers? Is it people who just bought a house int he last 90 days? Is it people in their 50's? Is it real estate agents?
Facebook can target all of them or just a few of them. And you can start by getting them to "Like" your business page. After that, you can then get to know them and market to them all you want.
We did that exact thing here with this law client:
Here are some before and afters to show the effect of the new fans and Likes, which we can now market to them page status updates filled with useful, friendly information:
SEO for Lawyers | More Ways to Get Traffic Back to Your Website
SEO for lawyers is becoming more and more complicated – not to mention extremely competitive. So you may want to consider other paid means in which to get traffic leads and clients to your website as a part of an overall traffic-getting strategy.
But at the endo f the day, all that traffic will come back to your law website and if it's not chock full of SEO optimized, conversion-minded content, then all the paid traffic in the world is not going to matter much. Show more of what you do, what makes you different and for God's sake…don't take yourself too seriously.
People do business with people they know, like and trust and if you can convey that to your would-be clients, you'll be WAY ahead of your competition.
Whatever you do, make sure you get our website checklist to get even more SEO  for lawyers tips…
And of course, if you need help with all this, feel free to contact us.